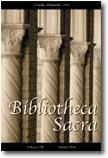 'For decades a stalwart publication offering the finest studies in theology, Bible exposition, and contemporary issues.'
– Chuck Swindoll
Bibliotheca Sacra is the oldest theological quarterly in the Western Hemisphere. It has been in continuous publication since 1843 and published by Dallas Seminary since 1934. The year 2000 marked the 157th anniversary of continuous publication. It has long been recognized as an excellent source of evangelical scholarship.
Bibliotheca Sacra is published quarterly, and every issue contains six to eight outstanding articles about biblical exposition and current theological and ministerial issues plus book and periodical reviews by the faculty of Dallas Theological Seminary. This is an excellent resource for scholars, alumni, pastors, teachers, and serious lay Bible students. Bibliotheca Sacra enjoys one of the largest circulations of any theological journal in the world.

For information on Bibliotheca Sacra on CD-ROM contact the Dallas Seminary Book Center by e-mailing them at bookcenter@dts.edu